Take a look at these fun napkins I came across during a recent stop at Caribou Coffee.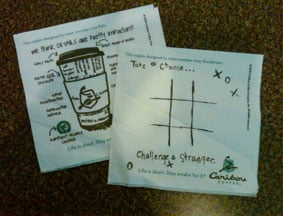 These whimsical napkins, as it turns out, were designed by Caribou employees themselves. Some even feature the original handwriting of those who contributed!
According to Colle+McVoy, the Minneapolis-based agency behind the newly redesigned Caribou brand, the sayings and drawings on these napkins and coffee cups are called "bou-isms."  They're fun, positive quips that stem from the tagline, "Life is short. Stay awake for it." Each one was collected from employees on note pads and repurposed to use on napkins and cups.
What a great example of using art and employee ideas (for something as simple as beverage napkin!)  to create something customers will remember.
-Suzanne