We are continually impressed by the good work charitable organizations do.  
-Cheryl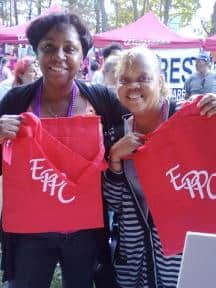 Rhode Island's East Providence Prevention Coalition (EPPC) is a nonprofit organization dedicated to promoting healthy lifestyles by preventing violence, combating substance abuse and promoting healthy nutrition. The EPPC provides a variety of programs and services to East Providence residents. They ensure alcohol and tobacco ordinances are followed by businesses that possess an alcohol license by offering training and holding compliance checks. They work closely with area high schools to provide leadership training, teen relationship abuse and substance abuse prevention education. And they hold drug take-back days where residents of East Providence can properly dispose of prescription medications that are no longer wanted or used in an effort to keep them out of the hands of children and out of the East Providence water supply.
Recently, the EPPC participated in the national Rally for Recovery, which draws close to 10,000 people and focuses on providing help and support to those recovering from substance abuse. "We received the one by one® just weeks before the rally. The timing was impeccable," said EPPC's executive director, Jennifer Wall. "We were told the draw was in the promotional products at this rally, so we were so excited to receive this grant." The EPPC used the grant to purchase red and white, insulated zippered bags for the event that were awarded as prizes to those who correctly answered questions about alcohol abuse.
You can read more recipient stories on the one by one website. To apply for a one by one grant, visit onebyone.4imprint.com and click the Application tab.