This is a great story!
-Cheryl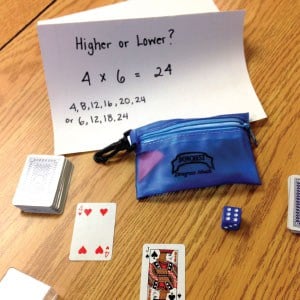 When you think of learning math skills, visions of kids pouring over multiplication tables might come to mind. But kids at Doncrest Public School are learning to ace data management, probability and much more with the help of an unlikely teachers' aid: personalized games—or more specifically, custom playing cards and dice.
As with many schools, Doncrest Public School resources and funding sometimes come up short in the quest to teach the next generation. As the recipient of a 4imprint® one by one® grant, Doncrest Public School purchased 200 sets of Traveler Cards & Dice as promotional products for its students, which fit perfectly into the math curriculum, according to Natasha Teja. "We use them for all kinds of games, and the kids can also play amongst themselves during recess. It's a great way of engaging them with hands-on stuff, and the push right now is that kids are to use hands-on strategies to attain math concepts."
More than offering valuable lessons, the cards and dice also provide a dose of fun for students. "They love playing different kinds of games, rolling the dice and multiplying numbers, flipping the cards—they forget, but they're actually learning. I see such a difference in people's attitudes toward math," Teja says.
The school selected personalized games that come in a handy zipped pouch, says Aroon Baksh. "The fact that the cards and dice come in a convenient carrying case makes it easier for the kids and teachers to carry so it doesn't get lost."
Whether the games involve simple addition and subtraction, multiplication or more complex concepts like probability, the custom playing cards and dice games add up to a win for students as well as the school. "We want to help create a culture where kids enjoy math games and enjoy engaging in math," explains Teja.
To learn more about the 4imprint one by one program, visit our website at onebyone.4imprint.com. You can read more stories from our inspiring group of one by one recipients on Cheryl's blog.