NOTE: Case Study #3 is 'short and sweet' but if you take it all in it's packed with things to think about.  -klt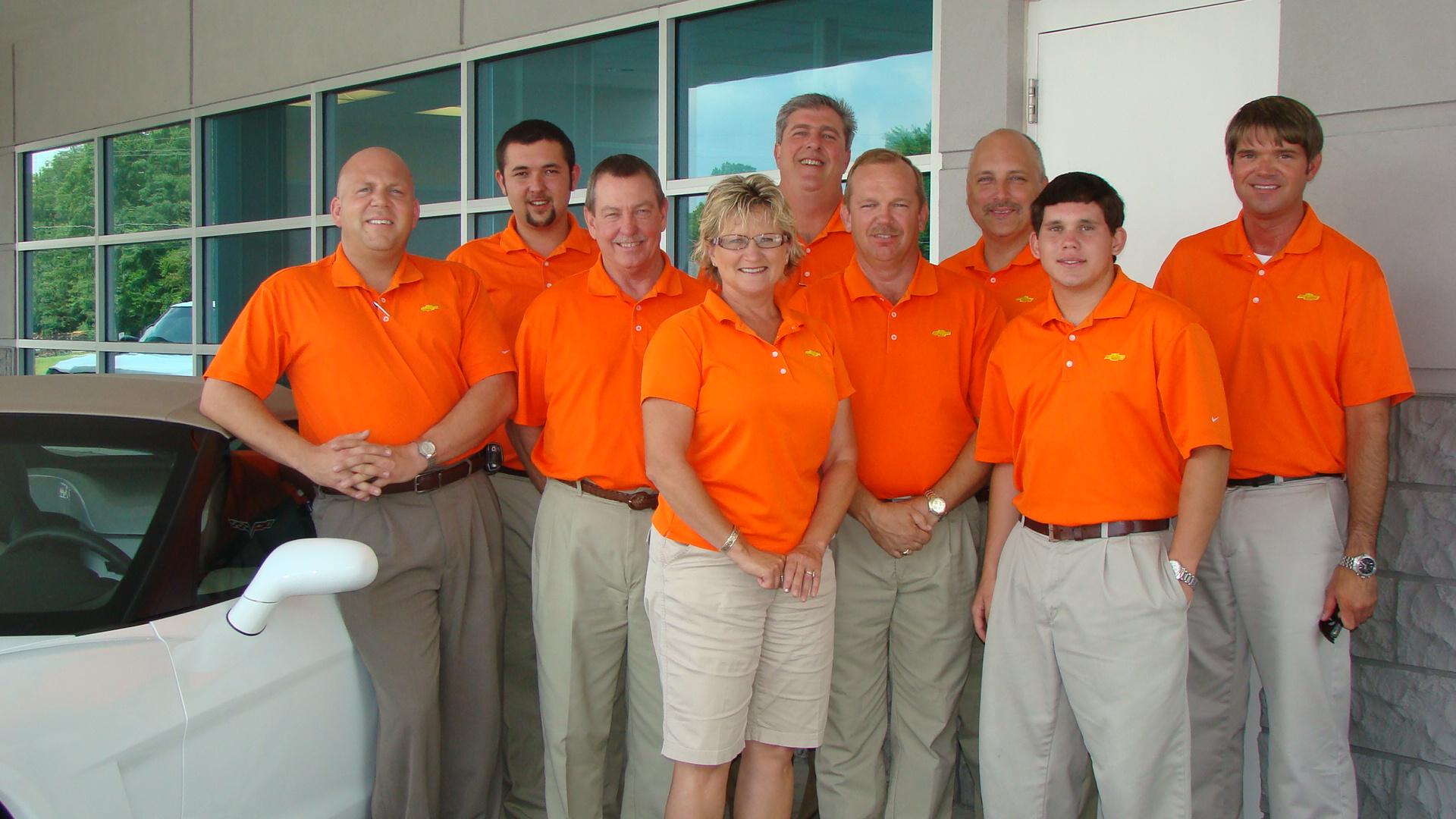 Left to right:Scott Wilkinson, Matt Waters, Mark Dillard, Debbie Kicklighter, Earl Hutto, Larry Stanley, Rob Barber,
Cody NeSmith, and Steve Tippins.
Hassle-Free Culture Breaks the Mold
NeSmith Chevrolet Buick Pontiac GMC, Inc.
Bright red tags on every car window give visitors the first hint that things are different at NeSmith Automotive.  The omnipresent tags show discounts, rebates, incentives and the final price for every car at the dealership.
There is no negotiation.
The approach isn't just a short-lived promotion.
Hassle-free is culture at NeSmith.  In 1991, the Georgia-based dealership began carving out a 'no-hassle' niche, unique among auto dealers.  Rather than using high-pressure sales tactics and tough negotiations, the NeSmith team focuses on treating every visitor as an honored guest, every day, every time, without fail, no exceptions."
"That's our mission statement," said Leigh Anderson, Internet Manager and the Administrative Assistant to the Executive General Manager, Demere NeSmith.  "We post it in our break room so it is in front of our salespeople all the time."
The strategy is working.
More than 70% of NeSmith sales are attributed to repeat customers.  Earlier this year, NeSmith was honored as 2008 GM Dealer of the Year.  And, the company is growing.   NeSmith opened a GM dealership in Hinesville, Georgia, in 1997.  NeSmith Walker Chevrolet opened in Jesup, Georgia, in 2001.  And, NeSmith Select opened in Statesboro, Georgia, in 2006.
Of course, the no-hassle strategy can create some minor challenges.
Without high-pressured salespeople approaching them, customers might mistake another customer for a salesperson.  The company eliminates that problem by purchasing Nike Golf Sport Shirts with the company logo on them.
The shirts have enabled customers to easily find a salesperson to help when needed.
That, like the bright red price tags, warm welcome and no-hassle approach, is now one of the things visitors can count on when they visit NeSmith Chevrolet Buick Pontiac GMC, Inc. in Claxton, Georgia.