NOTE: Here's the first in a twelve-part weekly series of case studies that feature a few our (beloved) customers. Each post contains specific examples of how they use promotional products, but you'll also see what some of their unique challenges are and how they address them. I want to thank them for sharing these 'mini-stories' – I'm sure you'll find valuable and enjoyable!
-klt
A powerful network for small businesses
South-West Texas Border Small Business Development Center
I wish I had known about you when I was starting my business.
Staff members say this is a common refrain at the South-West Texas Border Small Business Development Center.
Like the more than 1000 Small Business Development Centers nationwide, the 12 SBDCs of the South-West Texas Border SBDC Network provide free professional business advice and technical assistance to small businesses. The Centers, funded in part by the Small Business Administration, help small businesses start, grow and prosper.
"This is a resource available nationally," said Mary Peters, Associate Director of Operations.  "There is probably one right down the road from you."
In the South-West Texas Border region, demand for SBDC services is fierce.  The 12 Centers, which offer services to a wide geographic area along the Texas-Mexico border, touch nearly 20,000 small businesses annually, including 7,000 face-to-face meetings with entrepreneurs.  Additionally, 26 training modules are available on the organization's Web site (www.txsbdc.org).  The SBDC educates business owners about financing options, business plans, marketing, operations, human resources, government contracting, export/import assistance, and more.
The SBDCs must spread the word about both its services and its successes.  To do so, pens with the organization's logo accompany PowerPoint notes at training sessions.  New and existing clients receive inexpensive plastic bags containing the organization's logo, contact information and Web site to carry brochures and other training materials home with them.
"The most effective way to market our services is to isolate stories and ask our clients to say, 'SBDC helped us to start our business,' or 'SBDC got us started in government contracting,'" Peters said.  "We are also funded by the State of Texas based on the number of jobs that our clients create."
As host to the 2008 Mid-America Lender's Conference, staff members from the SBDC and Small Business Administration meet with lenders to learn about SBA loan programs.  The conference attendees received people-shaped USB hubs that bear the organization's name, logo, and web address.
"We wanted an item that will stay on their desk and remind them who we are, what we do and how we can help them."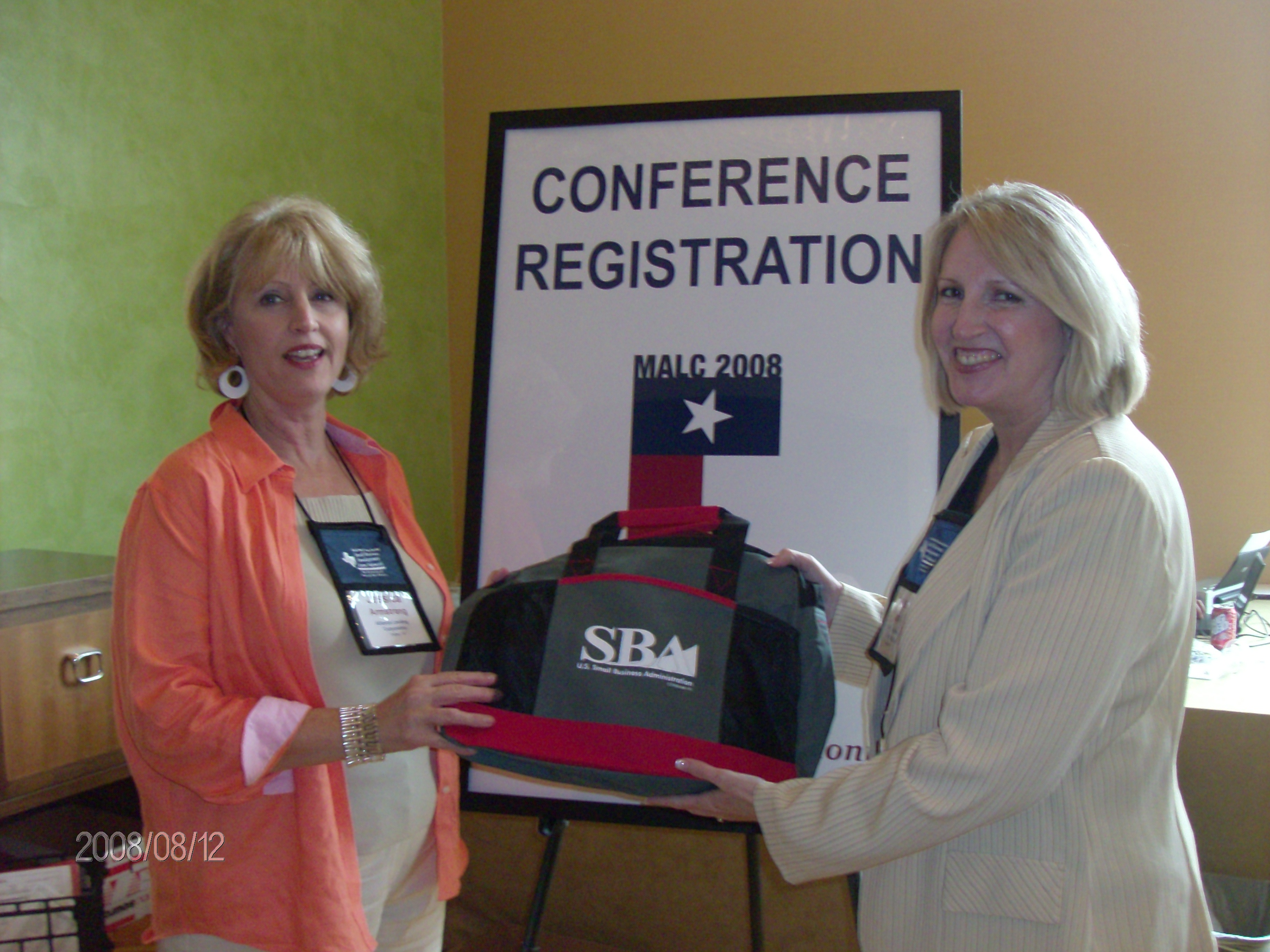 Pamela Sapia, of U.S. Small Business
Administration, and Jessica Armstrong, of
Alliance Lending Corporation, at
the 2008 Mid-America Lender's Conference.
Average rating:
0 reviews