We love hearing stories like this. 
– Cheryl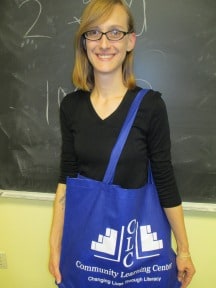 Community Learning Center (CLC) is a nonprofit organization that seeks to change lives through literacy education. It does so by helping low-income Philadelphia, PA adults with reading, writing, math and workforce skills so that they can receive their GED, gain employment, seek a promotion or transition to post-secondary schools or job training programs. The community-based organization serves close to 700 people each year with its multiple initiatives including community education, partnership programs and distance learning. It also has a student services program that provides support to help students break through any barriers that may prevent them from attending classes and achieving the ultimate goal. Through this program, assistance with housing, healthcare, mental health, alcohol and other drug abuse (AODA), food, clothing and shelter are provided through referrals. In addition to tackling these problems, the student services program also helps students with their job searches and with transitioning into either the workforce or higher education.
CLC was the recipient of a one by one® from promotional products retailer 4imprint®. It used the grant to purchase logo'd totes to reward those in the student services program for their persistence and good attendance, and to thank its many volunteer tutors. "We were thrilled to find out we were selected for a one by one grant," said CLC's executive director Becky Wagner. "Everyone is grateful to receive these bags, especially the students. Their faces light up. It's so meaningful to them"
You can read more recipient stories on the one by one website. To apply for a one by one grant, visit onebyone.4imprint.com and click the Application tab.