Working with charities like this is one of the things I love about my job.
-Cheryl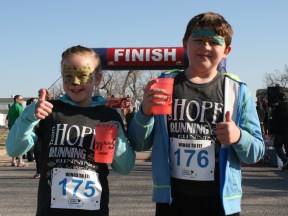 Children's Hospital Foundation is the only nonprofit organization in the state of Oklahoma that solely focuses on the advancement of pediatric research and education. It funds countless research programs for infectious disease, cancer, genetics, behavioral medicine and more, as well as recruits renowned physician-scientists to treat patients and train medical students. Last year marked the Foundation's 30thyear and since its inception in 1983, the Children's Hospital Foundation has generated more than $100 million for pediatric research and specialized care—all through endowments and direct support. Children's Hospital Foundation treats kids from all of Oklahoma's 77 counties. Last year alone, the Children's Hospital served more than 213,000 patients—no child is ever child is turned away for their family's inability to pay. 
Children's Hospital Foundation was the recipient of a grant from promotional products retailer 4imprint®. They used it to purchase a logo'd tumbler to present to finishers at the 4th annual Wings to Fly Run. This fundraising event, which brought in more than $20 thousand to benefit the Foundation, featured a 15K, 5K and miracle mile fun run. "We had been trying to think of fun ways to let our runners know how much they're appreciated," said Lacey Holt, Children's Hospital Foundation's development officer.  "The one by one® was wonderful because it allowed us to give something to each and every finisher. It was a great memento of the event."
You can read more recipient stories on the one by one website. To apply for a one by one grant, visit onebyone.4imprint.com and click the Application tab.