Cheater glasses have been around forever, but they're new as promotional products. (If you haven't used them before, cheaters are reading glasses that are available without a prescription.)
Available in the Central Park Readers style, these promotional products are both funky and useful.  Modeled after a pop culture trend toward heavy, large frames, celebrities and public personalities alike have been sporting this style of glasses. And, they're useful. As a giveaway, that means they'll bring your organization to mind again and again.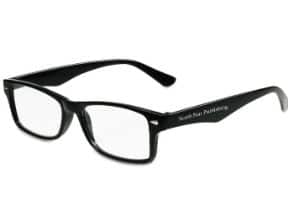 Imagine providing these in a dimly lit restaurant, to help customers read the menu. Banks, mortgage companies or title companies could offer these to customers to help them read contractual fine print. Churches, synagogues or faith communities might provide these to help those who need a bit of help seeing worship materials. Each time recipients grab the pair of cheaters from their purse or pocket thereafter, they'll be reminded of the organization that provided them.
When you order cheaters as a promotional product, the order is split into three lens strengths: light, medium and strong. So, you'll be able to offer your customers just the bit of reading help they need. And, like other great promotional products, these will be used again and again.
-Suzanne