We are so impressed by the good work of charitable organizations.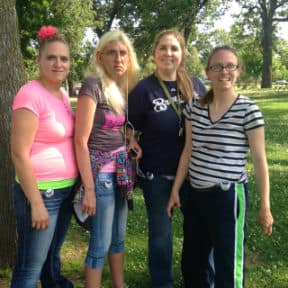 Cerebral Palsy of Mideast Wisconsin, Inc. seeks to positively affect the quality of life for those with disabilities and their families. This is accomplished through several programs and services including a modified summer camp, an adaptive bike rental program and an out-of-home respite care. Another such program, Life Basics, offers continuing life skill education for disabled individuals that have transitioned beyond high school. Life Basics focuses on nutritional meal planning and preparation, socialization, outdoor safety, active lifestyles and more. One way participants in the Life Basics program stay active is by joining Walking Club. Members meet at local parks and trails for a one-hour group walk where they not only get exercise, but exposure to the outdoors in a safe environment and socialization with peers.
Cerebral Palsy of Mideast Wisconsin received a one by one® grant from promotional products retailer 4imprint®. The nonprofit organization used the donation to purchase pedometers for Walking Club members. "The pedometers allow our clients to set goals on how far to walk and track improvements," said Brittani Feuerhelm, Cerebral Palsy of Mideast Wisconsin's program coordinator. "I have one client who updates me on how many miles he has walked every time he's seen me. We've been trying to get him active and [the pedometers] have helped help him set and achieve his goals."
You can read more recipient stories on the one by one website. To apply for a one by one grant, visit onebyone.4imprint.com and click the Application tab.