You never know how an organization will make a difference. Here's one inspiring story.  
– Cheryl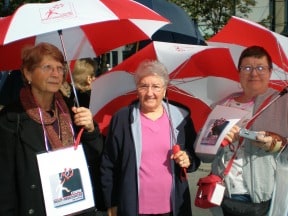 Companionship for all ages
Whether six years old or 60, Centre Multi Ressources de Lachine of Quebec, Canada, understands the importance of friendship and camaraderie, offering many services to its clients to combat feelings of loneliness and offer support in times of need.
The Centre, founded in 1983, is a place where individuals and families feel welcomed. Offering a variety of services, the Centre is committed to fostering happiness in the lives of its clientele and boosting their quality of life. From morning wake up calls to area seniors, to visiting isolated clients in their homes, to offering stimulating activities to kindergarten-aged children and their families, the Centre's 13 employees are passionate about helping others.
"Our mission is to break their social isolation by offering many activities," elaborates Marie Tessier, volunteer coordinator for the Centre. "Many of our customers live alone or don't have enough resources to get out of their situation. By coming to the Centre, they meet other people, and that can help a lot."
Other Centre services and programs include transportation to medical exams, daily office help, daycare services and parental workshops. All of its services are tailored to specific community requests and are consistently being updated to reflect areas of greatest client need.
With such a variety of programming aimed at distinctly different audiences, the Centre knows the importance of advertising to get its name out to the public. Using promotional products to this end has proved to be very effective. Tessier believes that giveaways emblazoned with the Centre's name and logo aide in spreading the word to individuals who may need assistance.
Whether using logo'd umbrellas, bags, magnets or pens – all provided by 4imprint's one by one™ program – the Centre has been able to focus its marketing at community events to draw in potential clients and boost awareness about its services.
"Since we are a community center with a limited budget, it's nice to know we have another no-cost tool to advertise for upcoming events. Any kind of donation is helpful, especially when it helps out our entire community," shares Tessier.
Read more one by one recipient stories on 4imprint's Facebook page. To apply for a one by one grant, visit our website at onebyone.4imprint.com and click the Application tab.