Fighting the Good Fight
Dystonia Medical Research Foundation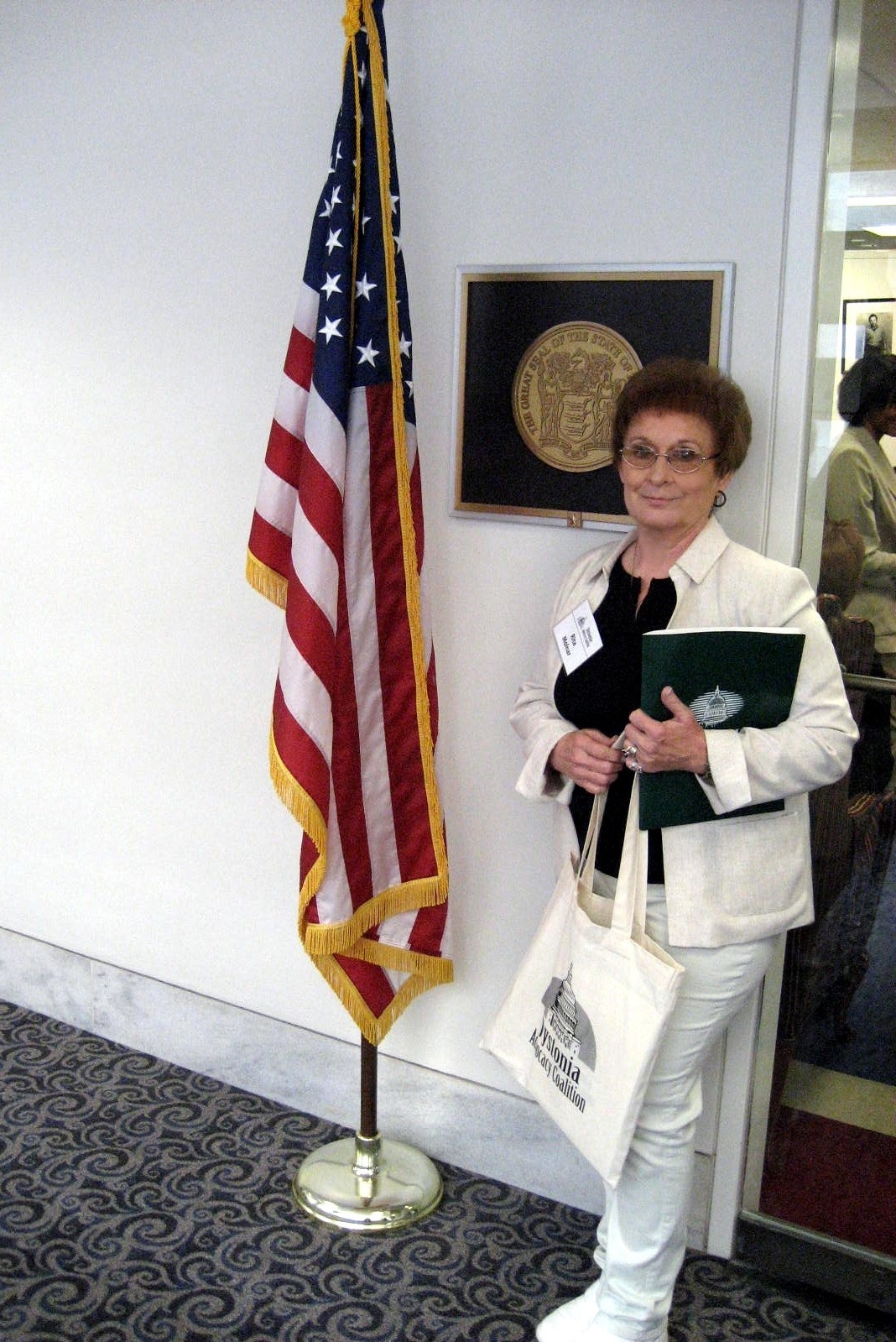 Rita Molnar is one of several volunteers who traveled from
NJ to participate in Dystonia Advocacy Day.  Rita is using
her bag from 4imprint to carry her materials around Captiol Hill.
Imagine your muscles twisting unexpectedly, forcing your body into an irregular posture.
That is what happens to children and adults affected with Dystonia.  The neurological disorder causes involuntary muscle spasms in the neck, arms, legs, face and vocal chords.  Instead of relaxing, the brain's wiring causes opposing muscles to contract simultaneously as if they are "competing" for control of a body part.
Many who are afflicted don't know what they have or what to do.
"Dystonia doesn't kill you, but it takes your life away," explained Janet Hieshetter, executive director of the Dystonia Medical Research Foundation.  "Because it isn't life-threatening, it's a challenge for us to raise funds and awareness.  But, when you can't hold your newborn grandbaby due to involuntary movements or can't dance with your daughter at her wedding because your muscles seize it takes your life away."
Dystonia is the third most common movement disorder following tremors and Parkinson's disease.  Founded in 1976, the Dystonia Medical Research Foundation funds research toward treatment options and a cure, raises awareness to help people understand the disease and supports those affected by Dystonia.
"We want to put ourselves out of business," Hieshetter said.  "We're hoping that we can find a cure to Dystonia and that our services will no longer be needed."
The Dystonia Medical Research Foundation provides medical updates via e-mail to more than 40,000 people.  But, with an estimated 300,000 people affected, there are many more to reach out to with education and support.
"I'll be on the plane and people will see my pen or wristband imprinted with Dystonia and they ask what it is," says Hieshetter.  "We're doing events and advocacy to help build awareness.  Handing out clever promotional products that get conversations started."
And, the organization has lots to talk about.  Treatments like deep brain surgery, which implants a pacemaker in the brain, hold promise.  And, the Foundation's outreach efforts hold promise, too.  Chicago headquarters and a Toronto-based sister location now provide assistance to 70 support groups.  As the organization expands its reach, offices in California and New Jersey are planned.
The organization hopes this growth can help more people with this rare, isolating disease find resources, treatment and support to ultimately take back their lives.

Average rating:
0 reviews