A Rewarding Community
Sunshine Rewards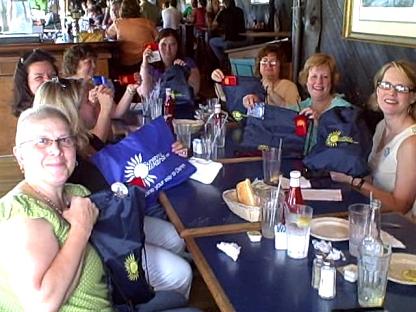 Left to right:
Lori Scherff, Leslie Carter, Pat Donavan, Kathie Ricard, Heather Ford, Pam LaChance, Angie Meeks, Pam Hall, Marilyn Dube
What makes a community a close one? At online couponing and rewards company SunshineRewards.com, its customers do.
But, don't take their word for it. Recently, when one of its members' husband was injured in the line of duty as a police officer, the close-knit virtual community banded together to help. Many sent gift cards from various rewards merchants to help the woman and her family during her husband's recovery.   
Sunshine Rewards, based out of Indianapolis, Ind., was created two years ago to reward online shoppers with not only great deals, but also cash back for their purchases. With a community of now more than 11,000 members, the company only hopes its community will continue to grow as online shopping becomes more and more popular.
"We are not the typical rewards site," said Cindy Ballard, marketing specialist for Sunshine Rewards. "We are a community.  We pride ourselves on being the exception to the rule!"
Ballard isn't exaggerating either.  Sunshine Rewards members are so involved with the company's programs that many have paid for entire grocery shopping trips and vacations with money saved on the Web site. And, by "vacation," we're not talking a trip two towns over. We're talking Disney©.
By completing surveys and signing up for various offers, customers have the option to choose a payment through Disney©, among other participating merchants such as Wal-Mart© and Target©. In total, Sunshine Rewards works with more then 600 merchants to provide its customers worthwhile rewards and discounts.
But, the rewards don't stop there. If a Sunshine Rewards user makes more than $100 per quarter, their membership status is elevated to Supermember. As a Supermember, users receive additional promotional product perks from the company.
"The promotional products we give out encourage our normal members to do more online and become Supermembers. Everyone loves the extra perks, and we try to work our items into everyday situations – like luggage tags or computer screen cleaners," said Ballard.
Sunshine Rewards plans on keeping its members around for the long haul through consistently updating its promotions and keeping exciting offers and giveaways at the forefront.
Their most recent giveaway? An all-expense-paid Disney© cruise, of course.