Leveling the Playing Field
En-Vision America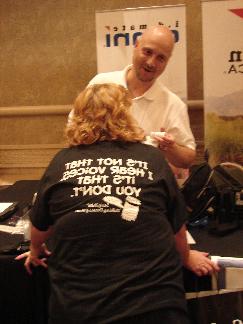 For the blind or visually impaired, it's common to use rubber bands or small, textured objects as prescription medication differentiators.
Or, it was.
Fortunately, those days may be over thanks to Normal, Ill.-based En-Vision America. For more than 12 years, the family-owned company has provided product barcoding services to the blind and visually impaired population.
Its next feat? The prescription drug market.
"After pharmacies place an RFID encoded label on the prescription, a multi-language handheld reader can voice the label information, warnings, side effects and overdose information to its user," detailed Anna McClure, sales representative for En-Vision America. "The ScripTalk Station reader literally provides 'help, at the touch of a button!'"
En-Vision America's talking bar code scanner product database is the largest of its kind, housing more than 2 million unique items. From DVDs, to groceries and hardware tools, the company's revolutionary service assists more than 20,000 customers in the United States, Canada, England and Australia.
"We've grown so much due to the blind community itself. They're an action group in that, when someone finds something great, they tell other people about it right away. Word of mouth has been huge in delivering success through the years," said McClure.
Another increasingly important part of the company's growth lies in the use of promotional products to increase awareness . and, to have fun, of course!
"At one of our national product shows, we ran a game where participants had to use the I.D. Mate OMNI reader to sort through items. If they beat the clock, they received a logo'd T-shirt or water bottle. Everyone had a blast while witnessing the product's potential at the same time," said McClure.
En-Vision America keeps customer service at the forefront as well, consistently ensuring its users are comfortable with their product choices. In fact, a group of the company's employees recently took a detour while en route to a conference to assist a gentleman in using his purchase correctly.
Now that's going the extra mile to serve the customer.
"Being a family-owned business, we always realize how important it is to serve the needs of family, friends and those close to you," said McClure. "If that means forming that personal connection or going above and beyond, we're going to do it."
Average rating:
0 reviews