Workforce for the Future
Odle Management Group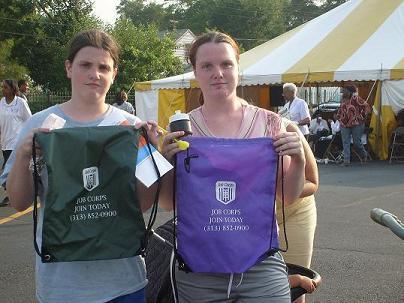 Leland Missionary Baptist Church held its 7th Annual Youth Tent Revival July 28-July 30, 2008.
Reverend Cecil A. Poe is the Pastor.  OMG was on hand for the entire event lending a helping hand.
The Community of Brightmoor attended the sessions held from 6:00 p.m. -9:00 p.m.  Many of the
youth in attendance were introduced to Job Corps for the first time.  Sisters Lori and Constance
Darby were excited learn about the Single Parent Program available at the Flint Genesee Job Corps
Center.  They completed an intake application and are planning to move forward in the enrollment
process.  Two new additions to the OMG Job Corps family.  It was a successful event.
Simply put, Lisa Odle and her team give 16-24 year-olds from disadvantaged backgrounds the skills they need to succeed.
The Scottsdale, Arizona-based company recruits young men and women for education, training and job placement, under a contract with the U.S. Department of Labor Job Corps program.
Some dropped out of high school.  Others lack job skills or independent living skills.
Odle Management Group helps fill the gaps, helping young adults become self-sufficient and succeed in the workforce.
"The ultimate goal is to place them in meaningful careers, so they become self-sufficient," said Lisa Odle, President and Founder, Odle Management Group.
Odle spent most of her career working in the Job Corps program.  Working in both regional centers and the corporate office, she gained a sense for the importance of innovation in programming and recruitment.
Odle Management Group mixes traditional newspaper and radio ads with ads on MySpace, city buses, door-to-door information drops.  Outreach counselors connect with guidance counselors, immigration agents and others to broaden their referral network.  Community festivals and outreach fairs are important recruitment events.
Promotional products help raise awareness about the programs and boost enrollment.
At outreach events in metropolitan areas, the team hands out sun visors, umbrellas or CD cases to entice attendees to learn more about Job Corps.  When outreach admissions counselors make visits to guidance counselors, immigration agents and others who interact with 16-24 year-olds, they distribute goofy pens.  When students enroll in the program, backpacks emblazoned with the Odle Management Group logo help them keep their papers in order.
In 2004, the company had one Department of Labor contract and recruited 2800 young adults.  By 2007, the company had identified and trained nearly 9,000 young adults at Job Corps Centers in 5 states.
"We are consistently applying our best and promising practices," Odle said.  "That has been a large part of our growth and development for the past three years."