Here's a story of one of the charitable organizations I had the privilege of working with. 
-Cheryl
Canadian Hemophilia Society, Manitoba Chapter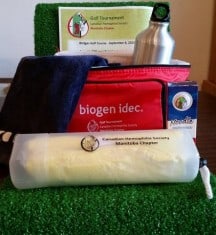 The Canadian Hemophilia Society, Manitoba Chapter provides education, programs and direct services to members managing inherited bleeding disorders. The nonprofit organization, now celebrating its 50th year, started as a grass roots organization with no physical location. Today, it operates a small office and, with the help of its staff and several volunteers, serves more than 200 families in Manitoba and the surrounding Northwest Ontario region. It does so through several direct services, including hospital parking and emergency taxi service, courier service of medication from Canadian Blood Services, mobility aids, financial assistance and more. It also provides countless programs like sports bursaries, family support, family camp, healthy aging and Code Rogue—a program that promotes women's bleeding disorder awareness. 
The Canadian Hemophilia Society, Manitoba Chapter was the recipient of a one by one® from promotional products retailer 4imprint®. It used the grant to purchase towels for its fourth annual golf tournament—one of two special fundraisers the organization holds each year. "It is a growing event, which is what made 4imprint's gift so significant," said Executive Director Christine Keilback. "It really helped us provide our golfers with something of value. Our community was overjoyed!"
You can read more recipient stories on the one by one website. To apply for a one by one grant, visit onebyone.4imprint.com and click the Application tab.