We love hearing stories like this.
-Cheryl
California Historic Route 66 Association (CHR66A)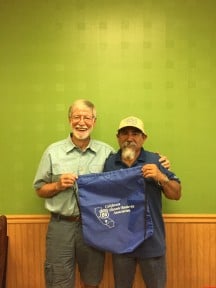 was founded in 1991 in response to the 1985 decommissioning of the legendary Route 66. Commissioned in 1926, this famous road was the one and only all-weather highway linking the Midwest—more specifically Chicago—to Los Angeles. When the interstate highway system was created, this eventually led to less travel via Route 66. Residents of the small towns located along the road suffered great economic impact. Their outcry, as well as the desire to uphold this iconic landmark, led to the creation of eight state associations dedicated to preserve, promote and educate people about Route 66. 
In an effort to pass on Route 66's legacy to a future generation, the nonprofit organization entered into a joint partnership with the Inland Empire Future Leaders (IEFL), a California nonprofit dedicated to promoting education and providing leadership skills to junior high and high school students. California Historic Route 66 Association, with its one by one® grant from promotional products retailer 4imprint®, was able to provide logo'd sports packs to its 200 Inland Empire Future Leaders. "The grant really connected our partnership with IEFL," said CHR66A board member Lynne Miller. "I was very pleased that we were able to provide our youth leaders with these nice, quality bags. It was a great way to reach the future stewards of this historic highway."
You can read more recipient stories on the one by one website. To apply for a one by one grant, visit onebyone.4imprint.com and click the Application tab.