We are continually impressed by the good work charitable organizations do.
-Cheryl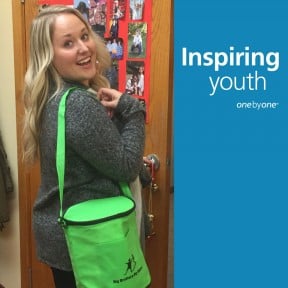 Since 1980, Big Brothers Big Sisters of Pictou County, Nova Scotia, has been facilitating life-changing relationships that inspire and empower youth. In addition to providing one-to-one mentoring, the nonprofit organization reaches 230 area youth each year through group mentoring programs and programs that teach adolescent girls and boys about healthy eating, living and body image. "Mentoring really does make a difference, and there is plenty of evidence to support that," said Margie Grant-Walsh, executive director at Big Brothers Big Sisters of Pictou County.
Big Brothers Big Sisters of Pictou County was the recipient of a one by one® from promotional products retailer 4imprint®. It used the grant to purchase coolers for its largest fundraiser—Bowl for Kids Sake. The coolers were used to reward bowlers who raised more than $250. "In total, we had more than 800 bowlers come through the door that raised a grand total of $51,000," said Grant-Walsh. "Grants like this are a great support—particularly to small organizations like ours."
To read more stories like this one, check out Cheryl's blog.  If you'd like to learn more about 4imprint's one by one program, visit our website at onebyone.4imprint.com.