If you feel like you've been seeing the useful, brightly colored utility totes everywhere, you're not alone. These go-to bags have quickly become a hot trend. And, because they're so handy, people want more than one for transporting or storing all of life's necessities.
Now, you can also add your logo to these popular and stylish totes.
What makes these promotional totes so popular?
This heavy-duty design works equally well around the house and away from home. In fact, these totes are perfect for:
storing sporting gear, between-event snacks or roadside emergency supplies in the back of a car
organizing tools, out-of-season clothing or camping supplies in the basement
collecting seed packets, pots and planting supplies in a garden shed
corralling papers, office supplies or files handy in the office
Recipients can also pack kids' toys and games for an upcoming next road trip or keep everything they need for their favorite hobby in one place.
Among this promotional bag's best features: It stores flat. Promotional utility totes collapse when not in use, so that makes them easy to store until your giveaway. And, recipients will appreciate that flexibility, too. They can keep them in their homes or cars without sacrificing valuable storage space when not in use.
Promotional totes: A wide range of colors and patterns
The Utility Totes come in sizes, colors and patterns that have widespread appeal.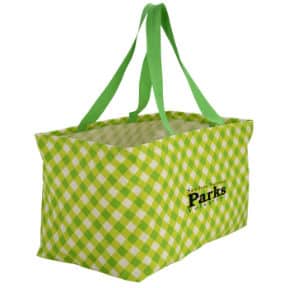 While the totes are functional and can stand up to daily use, the design is what really makes these promotional products stand out. And, the range of classic to bright colors and traditional to fresh patterns provide the perfect backdrop for your logo.
Employees, customers, volunteers and donors will be delighted to receive this. (This is the kind of gift people don't mind getting again and again.) And, its modern look and all-around usefulness make this a go-to bag, giving your logo extra exposure.
Suzanne