This is a great story.
-Cheryl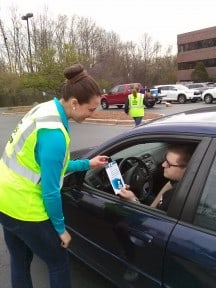 The Better Business Bureau® Serving Wisconsin (BBB) is best known for helping people find a business they can trust. But it does much, much more. Its Foundation arm, the BBB of Wisconsin Foundation, offers Wisconsin communities numerous programs and services on topics such as ethics and integrity, investing wisely and identity theft protection. One such program is its free shredding event, ShredFest. Attendees of this event can bring in their bank and credit card statements, receipts, cancelled checks and other documents containing personal information, and have them safely and responsibly shredded on-site—for free! The BBB has been holding ShredFest events at multiple Wisconsin locations, biannually, since 2007. In 2014, the BBB was able to shred and recycle more than 150 thousand pounds of personal documents. 
The BBB of Wisconsin Foundation was the recipient of a one by one® from promotional products retailer 4imprint®. The nonprofit organization used the grant to purchase magnetic clips which were attached to a flyer promoting the BBB Serving Wisconsin website and its services. The clips were handed out to the hundreds of attendees of ShredFest. "We were very grateful to receive this grant because, as a non-profit organization, we have a limited budget for providing this free service," said Ran Hoth, BBB Serving Wisconsin president/CEO. "The grant enabled us to expand our order and further our message to the public. We are proud to have 4imprint as a both a vendor and an accredited business."
You can read more recipient stories on the one by one website. To apply for a one by one grant, visit onebyone.4imprint.com and click the Application tab.