If you have a banner at your organization, chances are it's a workhorse.  Banners turn up almost everywhere: trade shows, charitable events, parade floats, training seminars and many other places.
So, we had some fun turning a standard promotional product into something different: an oversized birthday greeting.
The entire 4imprint team came together to celebrate Kevin's birthday with a surprise.  We took a Value Indoor Banner (#111557) and added photos of everyone on the team, with signatures and personalized birthday wishes on the reverse.  It was a great way to get everyone involved.  And, we didn't need to have everyone present for one giant team photo.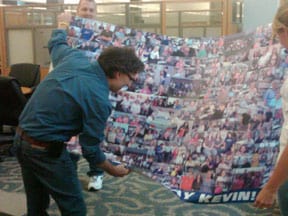 This is an idea you could borrow for a family reunion, class reunion, holiday party, launch of a new corporate program or any other personal or professional celebration.
You'll have as much fun planning it as you will using it at your event.  Maybe even more.
-Suzanne