Here's a story that's incredibly touching.
-Cheryl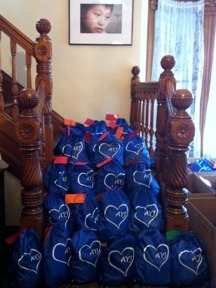 The mission of the AYJ Fund is to bring smiles to kids with cancer, keep them connected to friends and school with technology and find a cure for childhood brain cancer. This nonprofit organization was established in honor of a young girl who battled cancer for more than three years. Although she lost the fight, she went on to become the inspiration for a legacy that lives on.
Anna Arabia was diagnosed with a rare type of brain tumor at the age of 13. Throughout her own cancer treatment, she was committed to making it better for other kids that faced the same challenges. Knowing first hand how difficult it can be to lose your hair, Anna raised money to purchase bald Bratz® dolls for kids who also lost their hair during treatment. She was dedicated to giving back and helping others, even as she fought her own battle
Soon after Anna passed, in honor of her birthday, the AYJ Fund "Smiles" initiative was born. The program provides smiles to kids undergoing cancer treatment by distributing bags full of promotional products and goodies. The bags contain journals, pens, markers, nail polish, games, word books and more. "These bags provide a fun distraction for kids while they receive treatment," said Kathy Arabia, Anna's mother. Kathy and her husband Joe created the AYJ Fund and during its first "Smiles" initiative, almost 100 bags were delivered.
"I read about 4imprint's® one by one® grant program when we purchased the drawstring bags for the Smiles program. I applied and was just thrilled we were selected," said Arabia. The grant was used to purchase additional bags to distribute at Christmas plus items to fill them with. "Anna loved her iPhone® and tablet so we picked out techy things like tablet dots and a phone stand that had a cleaner on the back, since Anna was always cleaning her gadgets. We knew these were things kids would really love and use." Approximately 150 more bags were assembled by Anna's friends and delivered in time for the holidays to teens undergoing cancer treatment. "It meant a lot to Anna's friends, and it certainly meant a lot to us too," said Arabia.
You can read more recipient stories on the one by one website. To apply for a one by one grant, visit onebyone.4imprint.com and click the Application tab.