We are continually impressed by the good work charitable organizations do.
-Cheryl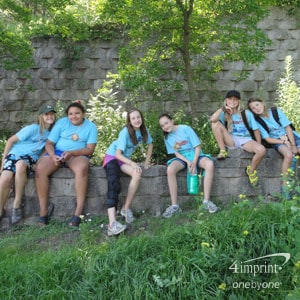 Sandstone, Minnesota's Audubon Center of the North Woods is a robust, residential environmental education center. It offers a wide variety of programs, mostly catered to grades K through 12. Whether visiting the center for the day or for an extended stay during camp, there's plenty for participants to do that immerses them in the outdoors—from learning about wildlife, to challenging themselves on the high rope or climbing wall, to learning about Ojibwe culture. The nonprofit organization offers three different summer camps, each with its own focus. In wildlife camp, campers learn about wildlife and care for non-releasable, captive animals. Outdoor sampler camp has a focus on biking, canoeing, archery and fishing. And for the bravest of campers, rocks, ropes and rapids offers instruction on rock climbing, rafting, canoeing and high ropes.
Audubon Center of the North Woods was the recipient of a 4imprint® one by one® grant. It used the grant to purchase branded T-shirts for campers. Campers decorated the shirts by printing them with rubber fish stamps. "The shirts are great," said Connie Haugen, program director for Audubon Center of the North Woods. "We go on a lot of field trips and having all the campers with the same color shirt helps us keep track of our group. Each camper gets to personalize his/her shirt by adorning with various color and style of fish prints. The kids love that they get a fun shirt to take home from camp and we get a very practical use of them while they're here."
Read more one by one recipient stories on Cheryl's blog. To apply for a one by one grant, visit our website at onebyone.4imprint.com and click the Application tab.