I was in Indianapolis this weekend for the Aplastic Anemia & MDS International Foundation (AA&MDSIF) Patient & Family Conference. AA&MDSIF is a nonprofit organization dedicated to fighting Bone Marrow Failure Diseases like Aplastic Anemia, MDS and PNH through patient support and research.
Given that this is a topic near and dear to my heart (full disclosure alert – I'm on the Board of Directors and our family has been personally touched by these diseases), I could go on and on about the event, the work the Foundation does, education on these little known diseases, etc.  However, given that I try to keep this blog broadly focused on marketing, promotional products and creative ideas I thought I'd share this photo: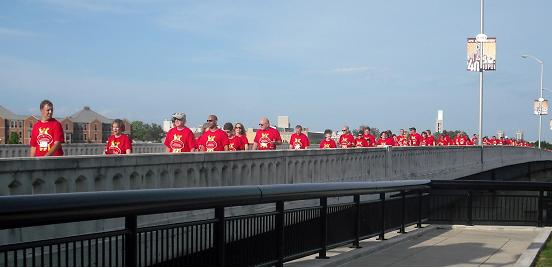 The Foundation put together the first ever 'Hope, Steps and a Cure' walk as part of the event, to raise awareness and to show people how they can put a walk together in their hometown.  The team at the Foundation that put this whole event (and the walk specifically) together, did an oustanding job in every way and they paid attention to many, many details. One important detail was the use of color in the walk t-shirts and other promotional items/materials.
This photo doesn't begin to do justice to how it really looked when a sea of 200 bright red t-shirts weaved their way around downtown Indy.  At times it literally looked like blood flowing through the veins of the city. It drew a ton of attention and the banner at the front of the walk (which I was helping to hold when I took this shot which explains why you can't see it!) tied it all together.
When you're tyring to get attention, don't forget about color. Choosing a bright color and sticking to it consistently throughout an event makes a big impression.