Here's another sneak preview for a new product I am really excited about: a beautiful, black, hard-cover journal with colored paper pages.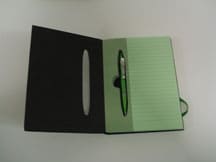 While the quality of the book makes it attractive, the position of the pen is what makes this combo truly eye-catching.  The matching pen nests among the pages of the journal and peeks through the cover when the journal is closed.  Using some industrial design magic, the cover holds the pen in place.  The pen's metallic finish pops against the rich black cover.  An elastic band holds the journal closed.
This is the kind of book that people can't help but notice when you pull it out.  (Just imagine how much attention your logo will get.)  And, this book and pen will put an end to fishing around the bottom of your bag looking for a pen or pencil.
If you're one of those really organized people, you're probably starting to think about year-end gifts.  These journals are one idea to add to your list.  Your customers will love both the form and function.  And, at $6-$7/each, you'll like the price.
–Suzanne