Just wanted to share the great work put together by Affinity Health System – they're based in Wisconsin – for their holiday gifts.
They wanted to give something health-related but modern, so they settled on our Vacuum Stainless Steel Bottle (Item #100399).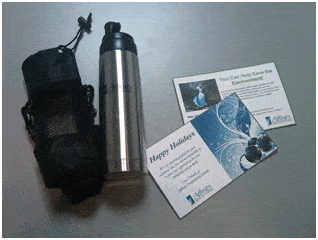 To highlight their message they enclosed a 'Happy Holidays' card as well as a note encouraging recipients to use this gift instead of plastic bottled water.
This idea would work other times of year as well. You could show your customers some love around Valentine's Day or make surprise recipients with a gift like this on Earth Day in April.
-Suzanne