The more popular touch interfaces become, the more popular stylus pens become. That's no coincidence.
A stylus pen is one of the most practical and useful tech tools available. A stylus pen gives you the ability to have that feeling and control over your writing whether you're using a tablet of paper or a tablet device.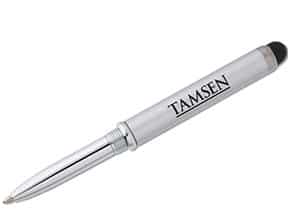 What makes this tech tool such a perfect gift? The fact that it's both a stylus and a pen. The stylus makes it perfect for the person who loves technology and always has the latest gadgets. Then pen makes it useful for the person who prefers to put pen to paper.
Prices on these useful promotional products are beginning to drop. And, that makes it likely they're going to get even more popular.
-Suzanne