With mobile devices growing more popular every day, it's easy to see why some of our best-selling promotional pens are becoming fan favorites when paired with a stylus. Stylus pens are still relatively new, so customers don't have a drawer full of them at home. Not only that, but how often can you give customers a high-tech giveaway for less than a dollar?
Stylus pens get people talking ("Where'd you find that? May I have another one to share?") and give a "wow" factor at trade show booths by making organizations seem modern, with it, and up-to-date.
Take the Curvy, for example. This long-time promotional pen favorite becomes a modern, cutting edge giveaway with the addition of the stylus to the top. The Curvy Twist Stylus Pen retains its stylish appeal but gains high tech functionality.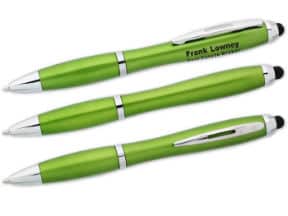 The same is true for updates to the Javelin Stylus Pen.  Pens are an old favorite at seminars and conferences, but these multi-purpose promotional pens let attendees jump between taking notes and checking emails back at the office.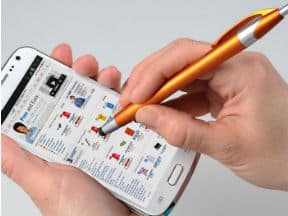 And, with the Krypton Stylus Pen, you can use a paper tablet and a mobile tablet at the same time. There's no need to put down your pen.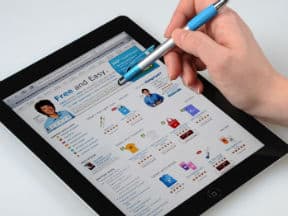 If your customers are ink-free, mobile-only types, the Stylus with Cleaning Cloth makes an even better giveaway. When customers twist it open, they'll find a handy microfiber cloth inside. It's the perfect tool to keep devices smudge-free.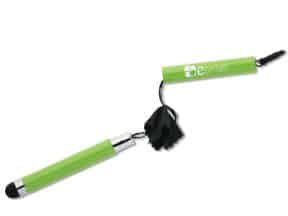 If you really want to make an impression, you can now provide three useful technology tools in one stylish gift. With the Stylus USB Pen, a stylus, pen and USB drive come together, creating in one smart giveaway.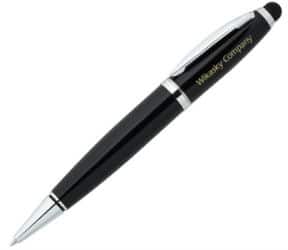 Imprinted items like this help your organization project a modern image and get people talking about your giveaways, your booth and your brand. And, that's exactly what you want at your next trade show or event.
-Suzanne