Every fall, the University of Wisconsin Oshkosh and the Oshkosh Community Y host the Oshkosh Community Dragonboat Festival. It's a fun community event that brings together teams from area employers and other groups to compete in dragonboat races, while fans cheer from the banks of the Fox River.
While cheering on the 4imprint team, I grabbed a beverage and noticed they were using stadium cups logo'd for the event. Great use of promotional products!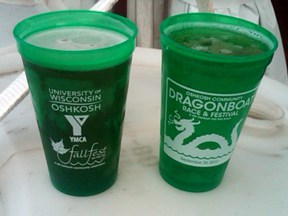 There are two cool things about this:
• Promotional stadium cups can be purchased for about $.50 each and can be sold for about $1.00. So, it's a great way to raise a bit of extra income at community events.
• It's also a great way to build word of mouth marketing about the event. As event-goers use the cups over the course of the next year, they'll tell their friends and family members about it.
This is a simple fund-raising idea that works for festivals, street fairs, food stands and more.
-Suzanne