A floating rubber duck that is 54 feet high is calling Pittsburgh home for three weeks.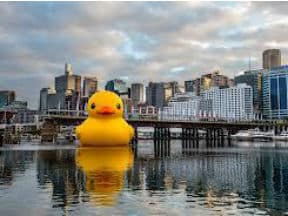 The bird first appeared in Amsterdam, the native country of Dutch artist Florentijn Hofman, who specializes in turning oversized versions of animals and everyday objects into public art projects. The rubber duck has been traveling the world, making stops in Hong Kong, Belgium, France, New Zealand and Brazil and creating a pop-culture frenzy along the way.
I was fortunate enough to see the duck on a trip to Hong Kong. Since then, I've had this picture of the duck as my screen saver. It's been fun to see people stop, laugh and ask questions. (Is it really that big? That's crazy. Why is it there?)
Why is this giant rubber duck such a huge hit with crowds? Simply put, this floating wonder makes people smile and gets them talking. If you've ever worked on an event, marketing campaign, or trade show booth, you know how hard it can be to do that. This duck does that with ease.
The reception for the rubber duck in Pittsburgh is expected to be warm as visitors from across the United States travel to Pittsburgh's International Festival of Firsts where the duck will be anchored for several weeks. If you're heading to Pittsburgh or somewhere nearby, you might want to add a stop to your travel itinerary. And, if you are planning an event or promotion, the rubber duck is a good reminder that sometimes a simple idea can make a big splash.
-Suzanne