Dry erase boards (or white boards) have a long, successful history. Invented in the 1960s, they really took off when less expensive materials became available in the 1990s. Today, you can find a dry erase board in almost every classroom, office and hospital. They've become such a part of our lives that we've even created computer programs and apps to mimic the dry erase board.
As promotional products, they've become a classic. The Memo Board is a favorite for small desks, lockers and refrigerators because it's incredibly functional. It comes with a cardboard back, attached magnet and pen.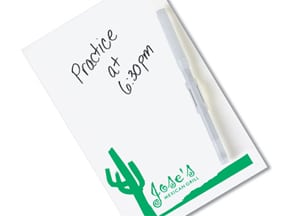 We use this little powerhouse items to organize our offices, our homes and our families. Amidst all this success, there has been one limitation. Creativity has been left to the imprint area. Now, even that is changing.
Martha Stewart recently released a range of white board decals geared toward organizing home and home office. Make a trip to Target and you'll spot new dry erase canvas boards. I use EasyChart™ dry erase paper sheets in my office to scribble new product ideas.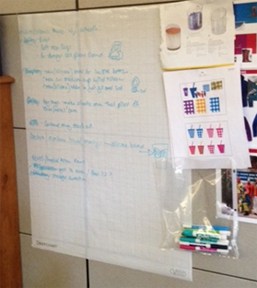 So, what does this mean for promotional products? We think dry erase stickers will be very popular with organizations. They're thin, flexible and can be used and easily removed from walls, refrigerators, desks, meeting room doors, notebooks and file folders.
We're working on a new line that'll be digitally printed, so you can print the whole sheet in full color. And, the set-up costs will be low. We're playing with undated monthly calendars and to-do lists, but you can also create your own design.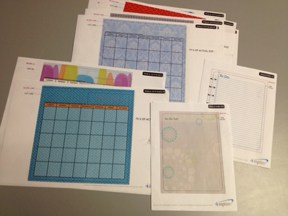 Think about using these as:
Sign-up sheets for yoga/fitness classes
Checklists/boxes for stages of a production process
Meeting room sign-up for community centers
Important notes to pass on to teams at shift change
'Today's Special' promotional boards for coffee shops and cafes
Combining 'to-do' lists for your customers (this would be perfect for lawn care, real estate or insurance)
Stay tuned. We expect to have these available later this year.
-Suzanne