If you've been following my blog, you may remember a recent post in which I shared some colourful, promotional luggage tags with funny little phrases that make it almost impossible to miss your bag when it comes 'round the luggage carousel.  As promotional products, they're eye-catching and useful.  And, the bright colours really "pop" against the usual drab colors of most suitcases.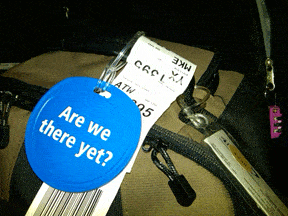 On a recent trip, I stayed at the Ramada® Inn and when I checked out, a front desk staffer gave me a luggage tag that was equally cheeky.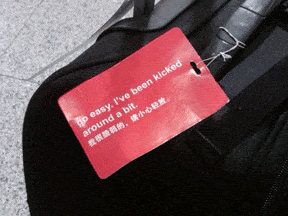 If you can't read the writing, it says, "Go easy. I've been kicked around a bit." What a creative way to make your promotional products memorable!
– Suzanne