One morning, while grabbing my usual (skinny latte) at the coffee shop around the corner, the coffee sleeve caught my attention – even before I'd had my daily dose of caffeine.
It was different.  It was custom-printed and featured artwork by children with autism.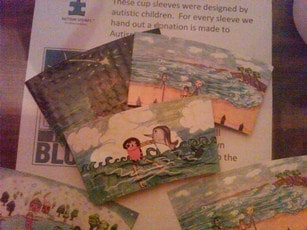 Flyers at the coffee shop explained the promotional coffee sleeves were part of a month-long campaign the coffee shop was holding to raise awareness of autism.  For every sleeve handed out, Planet Perk made a donation to the non-profit organization Autism Speaks.
It was a clever way for a non-profit organization to get its message across.
But, non-profit organizations aren't the only ones who could benefit from a partnership with a local coffeehouse.  A doctor's office could imprint a coffee sleeve with a fast fact about the health benefits of drinking coffee – along with a reminder to get a physical.  A dentist could highlight the importance of brushing after drinking a morning cup of coffee – and a phone number to schedule a check-up.  Dry cleaners, hardware stores or other retail locations could print a "coffee lovers" coupon on the sleeve with an offer to redeem it at checkout.  In fact, the Java Jacket – Large would be perfect for a promotion like this.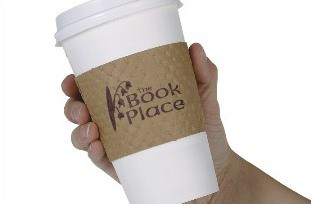 The ideas are endless.  Spend a little time brainstorming how you might put these promotional products to work for you.  It's a good reason to grab a cup of coffee.
-Suzanne