If you re-use plastic shopping bags, you know that storing them can be a bit tricky.  You want the grocery bags to be organized and easy to grab, without getting all tangled up in one another.
At a recent trip to Bed, Bath and Beyond, I spotted these storage solutions. simplehuman®'s grocery bag holder (below, left) is stainless steel, holds up to 30 plastic bags and mounts inside a cupboard or countertop.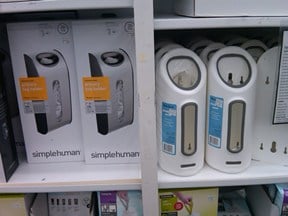 Our version is equally handy, but takes up a bit less space.  It's called the Keep-It Recycler.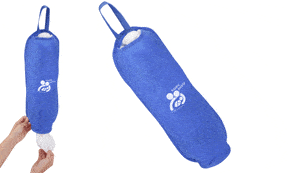 Made from non-woven polypropylene, this grocery bag holder is completely collapsible, so it can be rolled up and stored when not in use.  An elasticized opening at the top makes it easy to slip plastic bags in.  The tailored bag dispenser at the bottom ensures bags won't slip out.  A handy top loop makes it convenient to hang – it fits almost anywhere.
Aside from its practical design, the Keep-It Recycler is an incredibly useful giveaway, so it's likely that your customers will keep it around for years to come.  In fact, that's one of the benefits of kitchen-related giveaways.  They tend to have incredible staying power, making them ideal promotional products for your next trade show, event or thank you gift.
-Suzanne