A couple times each year, we do something really fun.  We give some of our customers a sneak preview of products that we are developing.
Our customers expressed a lot of interest in these products, so I want to tell you about them, too.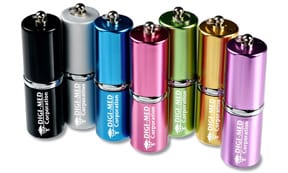 With its round metal case, this USB Drive (available in 1GB, 2GB and 4GB) looks like no other.  Bright colors provide a perfect backdrop for your logo.  And, with the accompanying black lanyard and key ring, customers will keep this USB drive close.
Get Organized! Notebook Combo Set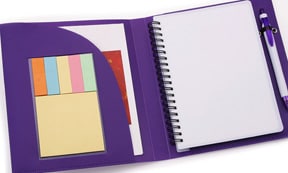 This is a multi-tasker's dream gift.  A 70-page notebook, plastic pen in an elastic loop, sticky notes and adhesive flags are all packed into this polypropylene notebook set.  Everything you need when you're on the go.  The Get Organized! Notebook Combo Set is a 4imprint exclusive.  We designed it based on customer feedback on related products.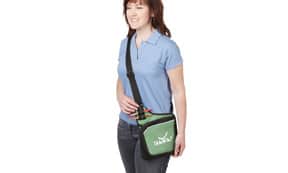 This bag is big enough to hold a camera, money and travel documents (like tickets, a passport and ID) and yet small enough that it's easy to carry around.  The updated shape gives it a more modern appearance.  Zipper pockets in front keep everything secure.  No wonder travel agents and tour groups seem to gravitate toward this style of bag.  It is perfect for travel, tours, fairs or trade shows.  You can either screen print or embroider your logo on this bag.
-Suzanne