One of my favorite shops is Paperchase.  This company started life in the UK as a really cool, trendy stationery store with stuff for everyone from art students to commuting professionals.  They attract a wide mix of customers with really fun designs, textures and colors.  Like most other European retailers, Paperchase directs its design back through the supply chain – so their product line is constantly changing.
They only have a few stand alone stores.  (If you guessed that one of them is at Americana at Brand, you're right.)   When I was there, I bought this wash/cosmetic bag to hold other travel necessities.like power cords, chargers, etc.
I also thought these guitar-shaped ice cubes were really fun.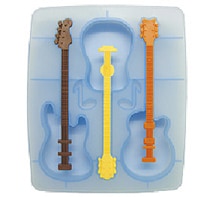 Not headed to Americana at Brand?  No worries.  Paperchase products are also available at 300 Borders stores in the US – because Borders owns a large share of the company.
You can check out other products from Paperchase at www.amazon.co.uk.
Let me know what you think.
–Suzanne