Here's a new promotional product I think you'll really like.
We've paired one of our hottest tumblers with a new palette for fall. The Spirit Tumbler is now available in eggplant, aqua, merlot, fuchsia and indigo.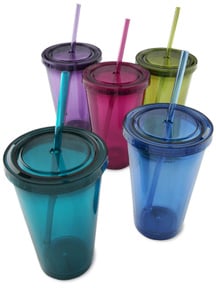 This is the first time we've paired these eye-catching jewel tones with this type of plastic cup. (And, the colors are a 4imprint exclusive.) The jewel tones transform this popular travel cup, giving it a completely different, updated look.
The combination provides a dramatic background for this double-walled, acrylic cup that prevents messy condensation on your desktop.
Try a tone-on-tone logo with these mugs for a sophisticated look. Or, make your logo imprint pop in white or bright.
What do you think?
-Suzanne