A 2015 study by the Pew Research Center finds 2 out of 3 people in the U.S. own a smartphone and 19% report being smartphone dependent, meaning they do not have easy access to an Internet-connected desktop or tablet device. According to eMarketer's Global Media Intelligence Report, those numbers are projected to rise to 86% by 2019.
That trend makes mobile-friendly promotional products almost universally appealing. Consider these mobile-friendly tech gadgets for your next tradeshow, event or giveaway.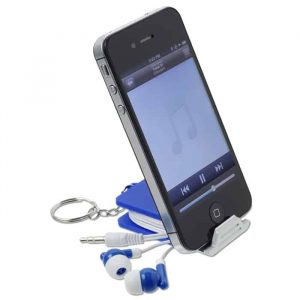 1. Spectra Ear Buds and Phone Stand
If your customers dread digging around in a laptop bag or purse looking for earbuds or a phone stand, they'll love this product. Our exclusive Spectra Ear Buds and Phone Stand keeps users hands-free—as far as 50 feet—and gives them better visual access to your phone screen.
The 50-foot cord packs easily by wrapping around the inside of the case and securing with a latch. And, because this comes with an attached key chain, users will always have this dynamic duo at hand.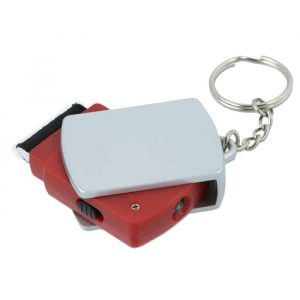 2. Swivel Tech Screen Cleaner Key Light
If your customers will like the idea of keeping their tech products close at hand, the exclusive Swivel Tech Screen Cleaner Key Light also fits the description. This giveaway puts three big product categories into one sleek design.
The key light brightens small, dark spaces, while the screen cleaner keeps your mobile devices smudge free. Your logo adds the finishing touch.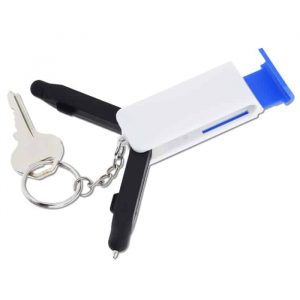 3. Wing Tech Phone Stand Key Tag
If your tradeshow or event requires attendees to use a pen, they'll be able to put this promotional product to work right away. The Wing Tech Phone Stand Key Tag is an all-in-one product that combines a key ring, phone stand, stylus and pen. That makes it as useful for taking notes in a notebook as it is for navigating sites on a mobile screen. Its bold trim helps it stand out in a purse or on a desk.
Mobile isn't only pervasive, it's also frequently used. According to research by My.com and Survey Sampling International, adults 25-54 spend an average of 6 hours per day on smartphones and tablets. (That includes time spent on social networks, texting, instant messaging, voice and video calls and email.) That amount of screen time makes mobile-friendly giveaways more than unique and affordable. It makes them so useful people can't wait to get their hands on them!
If you like the idea of a tech-friendly giveaway, but would prefer a different combination of tech tools, check out our full range of tech gadgets and accessories. Whether as a give-away or a small token of appreciation, these useful promotional products are sure to be a hit!
– Suzanne