NOTE:  Hi, Kevin here…below is a  guest post from John, a teammate of my here at the office. It's a post about a project he and I both love:
Making Life Difficult For Our Company President
I'm John Van Den Brandt, a National Account manager at 4imprint. You may also know me as our wildlife photographer. My wildlife images have been featured in the 4imprint exclusive Wildlife Calendar for the past five years.
As a wildlife photographer, it's my goal to make life difficult for our company president, Kevin Lyons-Tarr. You see, every May, Kevin joins our art director and a few graphic artists in pouring over scores of my wildlife images to narrow their favorites down to just twelve for next year's calendar. My objective is to make that task as tough as possible.
From the far reaches of North America to the grasslands of Africa, my images are the product of hundreds of hours in the field, not a few days at a game farm photographing trained animal models. (Ever wonder why that bear in some calendars looks like its fur was just shampooed and blow-dried?) Instead, I seek to capture remarkable moments in the natural world that will elicit a gasp from the review team and delight our customers when they turn the calendar page each month. Here are the 2012 calendar images: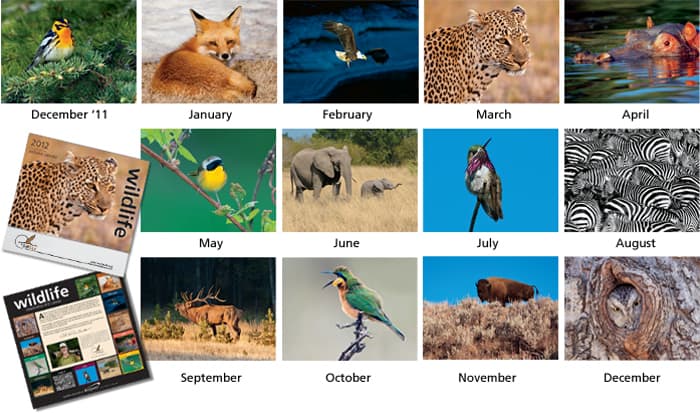 We feature those images in a calendar that is a cut above the ordinary. Saddle stitching (no spiral), larger size and premium grade paper (25% heavier) make this an art-quality calendar that we're all proud of.  Check it out and let me know what you think.
Meanwhile, I'll be out in the field, capturing photos that will give Kevin a headache next May.