I'm delighted to introduce the Malia Travel Tumbler, one of my favorite new promotional products.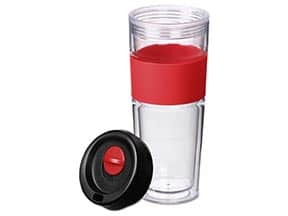 This beautiful new promotional travel tumbler is as functional as it is eye-catching. The non-slip silicone band surrounding the mug provides a great location for an imprint. And, it comes in a variety of colors, each matching the thumb-slide closure on the top.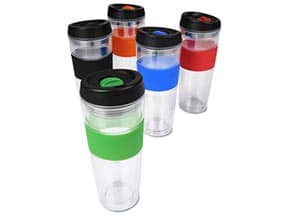 If you like coffee in the morning and iced tea in the afternoon, the Malia Travel Tumbler will be your go-to. You can use the double-walled plastic beverage mug for both hot and cold beverages. The double-walled insulation keeps cold beverages cold and hot beverages hot.
And, the construction also helps prevent condensation from forming on the tumbler and making a ring on desks and conference tables. That means this travel mug will be as popular with your office manager or operations crew as it with you.
– Suzanne
PS – This is a 4imprint exclusive.