When it comes to advertising to office workers, the most valuable piece of real estate is the desktop. That big, flat piece of plastic, metal or laminate is ideal for small calendars, coffee mugs, toys and other items that can carry your company's logo. After all, the desktop is seen daily!
Rebecca in 4imprint's Merchandising Department is the guru of desk accessories. She studies the latest desk toys and novelties and helps select the best ones. Here are a few of her recommendations that are great for when you want to put your message on their desk in a fun or practical way.

  Fidget spinners and stress relievers. You've probably noticed the popularity of fidget spinners—it's hard to miss. "This has been one of the biggest trends to hit our industry," Rebecca said. "This addictive toy is a handy way to stay focused while working at a desk. If spinning isn't enough, try out the Fidget Fun Block, a cube that offers a variety of buttons and switches to help with anxiety or boredom."  Another fun desktop item that provides a creative outlet is the Buddha Board. If your promotion or message is more specific, stress relievers may be the way to go. They come in many colors and shapes to fit any organization. For example, a heart-shaped stress reliever can promote a heart-healthy wellness program or even a heartworm-awareness campaign for veterinarian offices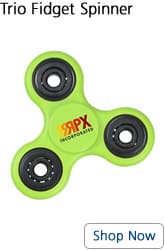 Tech Takeover. Smartphones, desktop computers, laptops, tablets and other electronics dominate our lives. "With the shift to a digital and mobile work environment, there is more demand for tech accessories and charging solutions," Rebecca said. "PopSockets® are popular accessories that allow for easy, hands-free use of a smartphone while in a video conference." These imprinted, stick-on tools easily expand to make a phone easier to grip, too. Add some security to your laptop with the Privacy Camera Cover with Screen Cleaner. And make sure to keep their tech gear charged on the go. "They'll never miss a business opportunity thanks to these promoters. The Velocity Charging Tech Kit and Universal Travel Adapter are handy items to keep all their devices charged and ready to go," she said.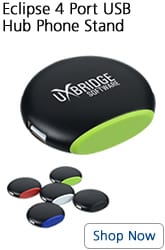 Stick to a schedule. When things get busy, it's important to stay on task both at home and in the office. Rebecca recommends planners and calendars to help make sure they never miss an appointment. "Planners are a great option to stay organized while on the go," she said. "Wall calendars are handy to keep in the kitchen or in the office, and we have hundreds to choose from. Help them keep track of all they have to do with our Removable Memo Board Stickers. And they can jot messages on our Magnetic Speech Bubble."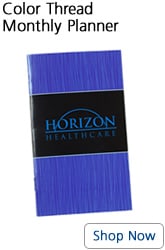 Coloring and doodling fun. Serious work requires some serious fun, such as coloring and doodling. Coloring is also a great way to relax and lower stress levels. "The Doodle Book offers plenty of lined paper for all their business notes, but provides some doodling opportunities to help them through long meetings," Rebecca said. "Keep them on task while showing off their creative side with Coloring Desk Pad Calendars and Adult Coloring Book Planner. Our exclusive Bic® Color-In Scratch Pads are sure to add a pop of color to any workstation."